Are you up for a lamb feast with a twist? For whole month of October 2011 Nu Er Hong restaurant at Pullman Kuching proudly presents you with a full menu of New Zealand Lamb. Inspired by Chef Soon, the lamb is chosen for its high quality of meat, imported all the way from the green fields of New Zealand
Chef Soon Selects the healthiest & Freshest ingredients provided by our local market. The lam goes well with different ingredients and provides flavourful yet nutritious taste for you.
'New Zealand Lamb' offers you a tasteful choice of :
Double-boiled soup with angelica roots (with ingredients of
Dong Quai
herbs, Dry Longan, Red Dates, Yok Chuk, Old Ginger etc).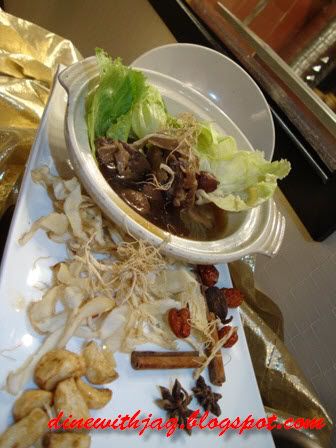 One Serving RM12.80 / Ten Serving RM 40.80
Delicious Combination of Lamb cooked in claypot with Chinese medicinal herbs (Cinnamon Stick, Tan Song,
Kee Chee
, Oyster Sauce, Chicken Stock, Black Mushroom, Kam Chao, etc)
One Serving RM19.80 / Ten Serving RM 33.80
Juicy & Tasty lamb braised with sugarcane & Sundried chinese spices (with ingredients of Sugar Cane, Black Fungus, Yok Chuk, reserved Beancurd, etc)
One Serving RM20.80 / Ten Serving RM 33.80
Succulent & lean Lamb 98 degree backed with Chinese BBQ sauce & salsa Verde (with ingredient of Lamb Rack with Chinese BBQ Sauce, Lea & Perrins Sauce, Tomato Sauce, Pineapple Juice, Curry Powder, Black Vinegar, etc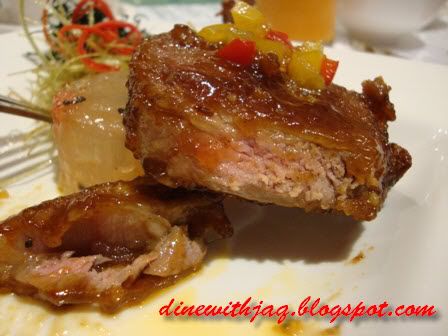 One Serving RM22.80 / Ten Serving RM 36.80
Well if you are a close friend of mine, you will now that I don't eat lamb. RLOL~ well that night I ate all of it. It does not have that taste that I don't like. It is just simply delicious! Love it!
For Reservation or enquiries, please contact +6(0)82 222888 or email to H6332@accor.com