I received and invitation on 20th May 2014 for AirAsia RED HOT Party. I was sleeping at that moment when the mail came in.
YienYien
called me excitedly asking me if I have received the invitation. I told her I am not sure as I was still in dreamland when the mail arrived. She ask me to check after hanging out the phone. Indeed there is a mail invitation from AirAsia. I was so excited that there is no word can describe. As this will be the first event by #AABC that I get invited.
The event is in KL on 30th May 2014 @ Sultan Lounge, Mandarin Oriental. I replied to AirAsia instantly to RSVP. After that my whatsapp group for the event has went ding dong ding dong the whole day. Jian and Thanis was also been invited for the event. All of us was so excited. Luckily my boss approved my leave in time for me to fly off.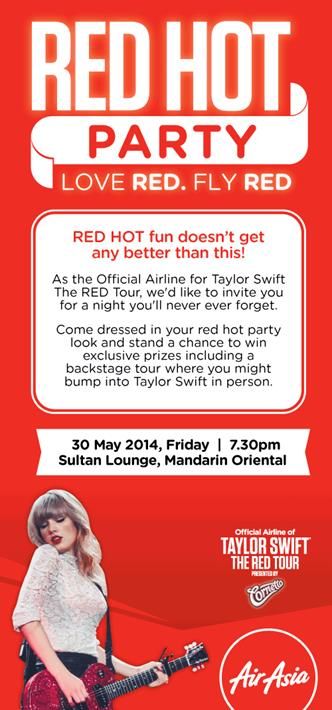 Blog post of the event will be up soon! I promise this time it will be up very very soon!