Is the time of the year again when all of us feeling jolly. Have you guys think of where to go for dinner on Christmas Eve and New Year Eve? Not sure where to go?
Good view of Kuching City?
Great ambience?
All dress up?
Camera charge up for some good picture?
Guess Pullman is the place to go to. The peak is pleased to introduce the Contemporary Set Menu Dinner on Christmas and New Years eve at the price of RM148++ per person. You can wine and dine while enjoying the Kuching Skyline from the 22nd floor of Pullman Kuching. The view and the dining experience will leave a lasting memories to you.
While at Puzzle cafe is offering Christmas Eve and New Years Eve Buffet Dinner at RM99++ per person. If you miss the Dinner buffet, you can come and enjoy the Christmas Hi-Tea Buffet at RM65++.
If you buffet is not your choice, Nu Er Hong will be your choice. Set Dinner on Christmas eve is priced at RM688++ per table and New Years Eve at RM788 per table.
Fresh Chilled NZL Oyster with Condiments
Fresh Sliced Salmon, Red Snapper & Tuna Sashimi
Fresh Water Prawns Skewer Served Flavored with Expresso Coffee Sauce.
Did you guys see why I love this prawn? COFFEE!
Slow Poached Black Atlantic Cod Fish with Citrus Vinaigrette and Onion Relish
Thin Slice beef "TATAKI" in Goma Antari
Chilled Green Edamame Bean's Soup
Healthy corner....
Seafood duet- King Prawn Cured with Jumbo Mussel in Lime Broth and Citrus Oil
Pan Seared Black Cod, Edible Flower with saute Baby Sprout, Celeriac Relish
Hazelnut crust young lamb rack & 98C baked US Beef Ribs
Missed out taking picture of few great dish that is Gratin Sweet Potatoes Timbale & "Midin" Black Pepper Gravy, Coriander scented Foie Gras, Slow Simmered Young Abalone & Caramalized in Pomegranate Juice and Roasted Yellow Herbs room Dumpling Squashes with Morel Mush & foam whip cream.
Desserts Time!
Christmas Yule Log
Assorted Chocolate Praline
Litchi Inspired Tart
Christmas Stolen Bread
Christmas Colored of Macaron! Macaron! Macaron!
Gingerbread Man!
For usher in 2012 with friends and families on New Year's Eve with DJ Skeletor from Hitz.FM. He will heat up the night away with the newest tracks and make your New Year's Eve Party a night to remember.
Ticket for the Christmas Spin and New Year Coundown is at RM80nett per person which inclusive of one shot and one drink.
For those who has planned to party the night away and has made reservations to dine at either Puzzle, Nu Er Hong, Liquid, Deja Vu and The Peak, you are entitled to their promotional room rate which is priced only at RM180++ and Pullman extended the check out time to 4PM. With all the boost from the party is was not a good idea to drive home.
For those that has planned a family dinner at home, Pullman Kuching has extensive menu for Christmas takeaway.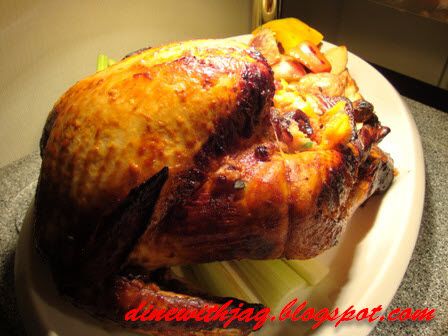 Roasted Whole Turkey Apple Chestnut Stuffing @ RM318++
For reservations or enquiries, please contact +6 (0) 82 222 888 or email to H6332@accor.com