After my trip to Hong Kong last April I stayed back in KL for 5 days. I am not sure what to do then so I was looking around in groupon to see if there is good deal that I can grab. So I came across this cafe groupon, High Tea for 2 person cost RM38. I decided to give it a try, invited George to go with me.
The cafe is nice, cozy and it has very nice ambience too. The place a nice place to hang out with friends. We sat down by the window.
The menu for the groupon consist of 1 slice of cakes, savoury pastries, french pastries and 2 hot drinks.
Cake (RM10.90 – RM12.90 value) - choose 1 from:
Cake of the day
Mille crepe
Tiramisu
Banana peanut butter cake
Mango cheesecake
Chocolate mousse
Blueberry cheesecake
Almond praline
Red velvet
Peach supreme cake
Passion mousse cake
2x Verrine (RM11.80 total value)
I choose Passion Mousse Cake, it is so so sour, though it was really refreshing. I did not get to finish it (although I was so tempted to do so) I scared at gastric attack. George finish all of it.
Savoury pastries (RM10.80 value):
Quiche
Curry puff
SamosaMini chicken pie
Spring rolls
Those highlight was serve to me. I like the quiche and curry puff.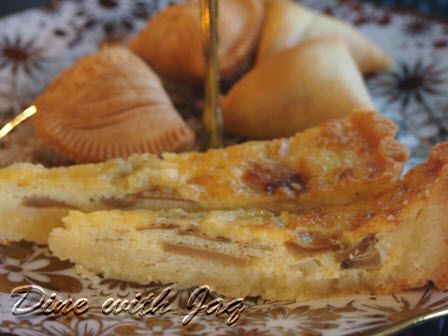 French pastries
2x Tart (RM7 value)
2x Parfaits (RM10 value)
2x Macarons (RM5.60 value)
We are served with 1 chocolate tart and 1 fruit tart. I took the fruit tart. It was just cream and some berries on top. I am not into their macarons though as it was too sweet for my liking. There are no parfaits on our tray but there is a mini blueberry cakes and a cream puff. It think they have substitute parfaits with it. Cream Puff is so so only.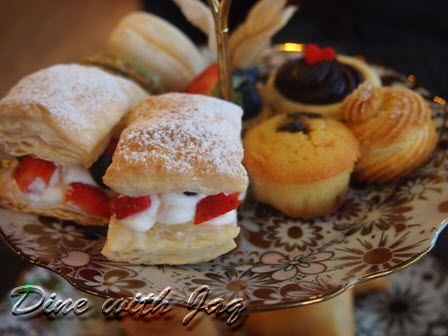 Drinks (RM11.80 value) - choose 2 from:
Hot coffee
Hot tea
Hot flower tea
My usual black coffee.....(I know I know, I should be having high tea with tea / flower tea. I need my caffeine shots for the day....)
While we were enjoying the delicated pastries and cakes there is a candle at our table, at first I thought it was real candle. Until I really look at it properly it was not. RLOL.
Jalan 22b/70a, Desa Sri Hartamas, 50480 Kuala Lumpur, Wilayah Persekutuan Kuala Lumpur