As usual finding a place to eat on saturday and sunday is a big problem for me. I usually wake up a bit late so by the time I wake up most of the breakfast food has finished. So last saturday i woke up around 11am. Couldn't decide where to eat I went for a round with my mom at Ang Cheng Ho area then I pass the corner shop which use to be Khiaw Chung Cafe but i am not sure if they have changed their name or not. Is been awhile that I did not come to this shop. When I drove pass by I saw a banner saying "Chicken Rice RM 1.99"! It really caught my attention.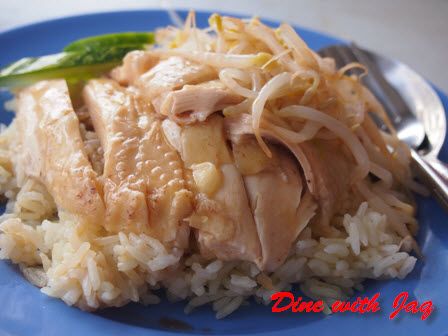 Chicken Rice @ RM2.00
Honestly the chicken rice was good. The chicken is soft and juicy. The only things I wish for is a bit of flavor to the rice. Anyway really no complain to it. What more can i ask for with this RM2.00 chicken rice.
I also ordered the Kolo Mee. Just normal Kolo mee no complain but nothing to brag about. Kolo Mee cost me RM2.50.