Is been awhile where our group of blogger get together for a nite of wine and dine and lotsa lotsa laughter and crazy stuff. Would like to thanks BTB, China House for inviting us to their media night last nite.
Our dinner start with a cocktail reception at Vine & Single. Vine and Single is a wine and single malt room, armed with an upright piano, and a bar with a wide array of drinks alcoholic or otherwise, as well as an adjoining private room to fit up to sixty persons for an exclusive evening soiree, private lunch or cocktail party.
Then we are given a tour around the China House. First was Kopi C Café, the unique place to be if you wish to have all-day breakfast. The cake table that holds and displays over thirty cakes at any one time is certainly a sight to behold. The Library holds an extensive range of books that are published on topics related to that of art, history, literature, and more. The Reading Room that combines books and magazines from ChinaHouse's very own Library for in-house browsing. Customers often walk in to the Reading Room for some peace and quiet, but there are occasions when the room is used for events and activities that may not involve reading. Next are Servery Bar, which is set in between BTB Restaurant and The Canteen, and functions to meet the orders and demand of beverages, from both outlets mentioned. After that are The Canteen is where to head for street and comfort food, as well as for Friday and Saturday night live music performances. The multiple purpose hall fits up to 150 (seating only), and aside from its weekly music events, is also used for dining events, and other gatherings that involve large numbers of guests. Last but not least are the Round Tower, which houses rustic furniture and other antiques – perfect gifts for your friends, or yourself.
Our tour ended at BTB is a large dining room with rustic furnishing that serves modern western style dishes influenced by an eclectic mix of Asian and Middle Eastern cuisines.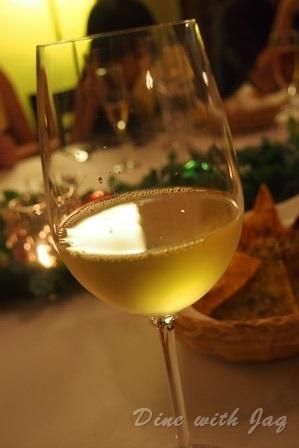 Stay tune for the hidden agenda behind the wine glass. RLOL! Guess who is that?
Crispy Mixed Flatbread with Homemade Harissa & Basil Pesto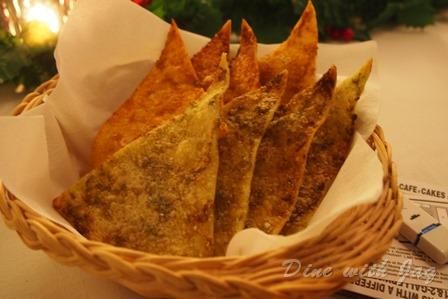 I chose
Corn & Basil Soup with Lemon Rocket Salad Garnish. The first taste was ok as the soup is very mild in flavour although there is basil in the soup. The more you sip on the soup the flavour get better. It has that lemony taste to it which make it very refreshing kind of soup. It was yummy!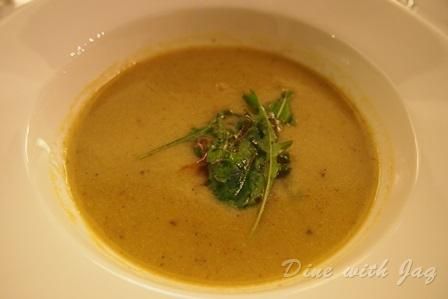 For my main, I had
Seared Fillet of Beef with Mashed Potatoes, Butter Spinach, Mustard Relish & Balsamic Sauce.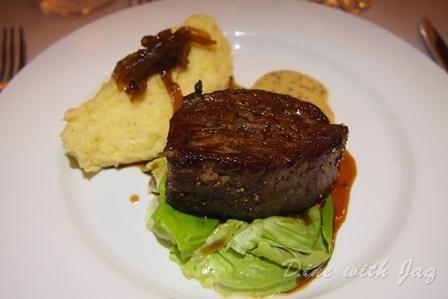 I ordered my fillet medium, and it was server perfectly. RLOL! I am scared of bloody meat! Pairing the balsamic sauce and the mustard with the beef was perfect. It was well balance of sweet and nutty flavour. The mashed potato was creamy and sweet.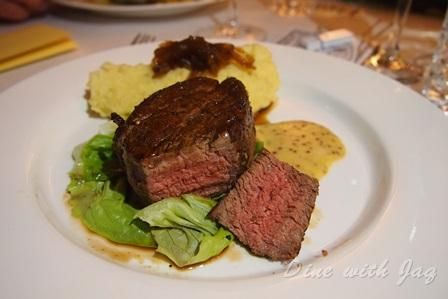 Prawn & Pineapple Curry with Basil & Mint Sauce, served with Yellow Rice, Okra & Cashew Nut Coconut Sambal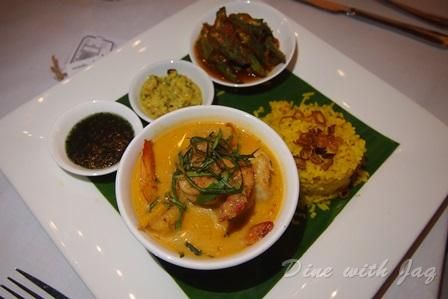 Baked Salmon with Preserved Lemon Chermoula, Baked Layered Turmeric Potatoes, Green Mint Sauce & Lime Dressed Coleslaw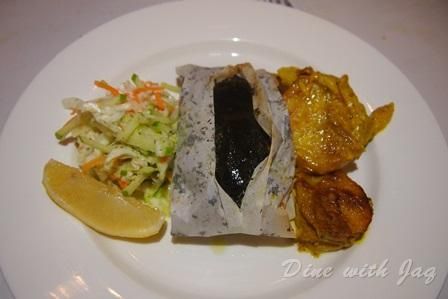 Ayam Percik, Chicken Langkawi Style with Green Mango & Cashew Nut Salad, Pineapple Sambal & Kerabu Rice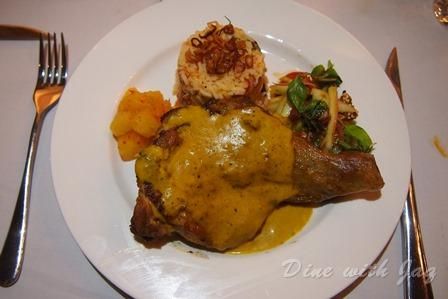 How can any delicious main entry ends without dessert. We were serve 3 different type of dessert.
Salted Caramel Cheese Cake served with Vanilla Ice Cream, Pistachio & Honey Sauce on Fresh Mango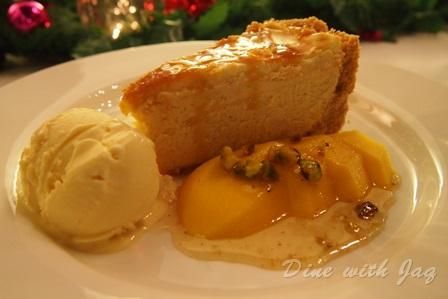 Steamed Apple, Macadamia & Butterscotch Pudding with Gula Melaka Ice Cream & Apple, Ginger Compote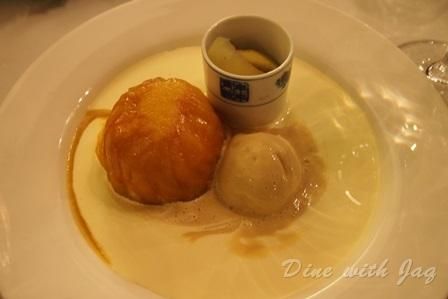 Those who know me would have guess that my favourite dessert for the evening is the Salted Caramel Cheese Cake! Salted caramel anything is yummy! Even Fried Chicken with salted caramel would be good too!
It was a fun night with lotsa laughter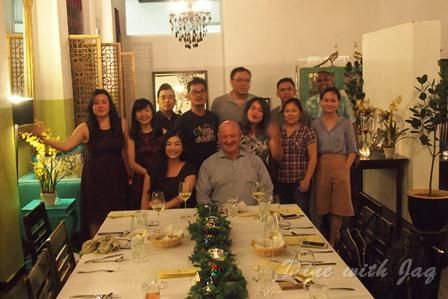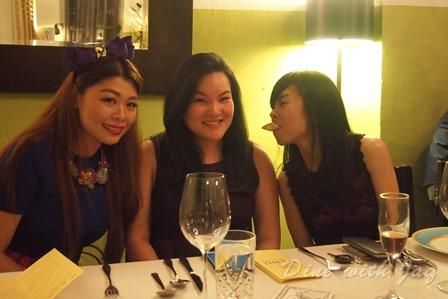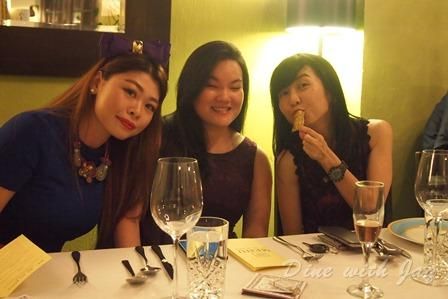 And the hidden object behind the wine glass is........
For reservations and enquiries, members of the public may call 082 417 601. You may also 'Like' ChinaHouse at the old CourtHouse on Facebook or follow us on Instagram at @chinahousek, to receive updates and information on our latest events and promotions.