Next to water, tea is the most popular beverage in the world. Some estimates place daily global consumption of tea at up to 20 billion cups. Now, that's a lot of tea! What some people do not know though is that tea can add subtle flavour and rich colour to variety of food. While westerners generally think of tea only as a beverage, the Chinese not only consumed tea but has been using tea as a seasoning ingredient for centuries.
Tea lovers will be pleased to know that Pullman Kuching for the whole month of November 2011 Chef soon, a connoisseur in Chinese Cooking. Besides its slightly bitter, astringent flavour, Chinese tea comes with plenty of health benefits. It lowers cholesterol, high in vitamins, minerals and antioxidants. In fact most Asian counties have used tea for cooking purposes for these very reasons.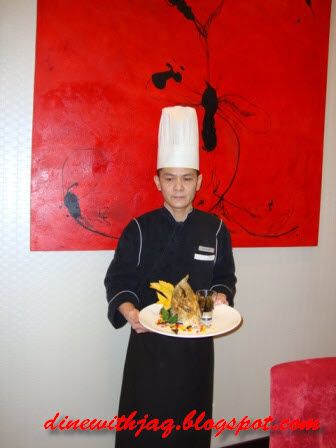 Chef Soon
This month Chef Soon is introducing three main dishes which are cooked with specially selected Chinese Tea. Nu Er hong invites guests to experience these exotics dishes which will tantalize your taste buds as a dishes are cooked with semi-fermented leafs; sweet and flowery essence that blends well with smoked duck, his delectable dish is named Oolong Tea-Premium Osmanthus. Herbs and spices used in this tasty dish is old ginger, cao guo, star aniseed, rock sugar, spring onion, mushroom soya, etc....
Oolong Tea-Premium Osmanthus
Another delicious delight to savour is Green Tea-Premium, Which baked red fish with mayonnaise added with a hint of Green Tea Flavour. The Exotic Aroma created by the delicate blend of mayonnaise and green tea will definitely boost your appetite!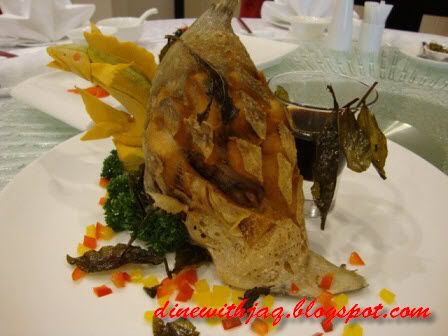 Green Tea Premium
The 3rd selection of dish cooked with chinese tea is 'Tie Guan Yin" or known as iron Goddess of Mercy, Which is smoked white promfret fish cooked with selection of tea, herbs and spices. Work up an appetite and discover this gastronomical dish which produces a very ligh emerald color once cooked, you will not be disappointed!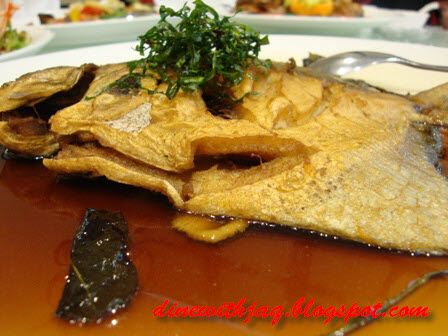 Not only is smoked food more popular than ever, but the ease and simplicity of the Chinese technique adds to its appeal, thus indulge and explore this new culinary experience created by Chef Soon @ Nu Er Hong, Pullman Kuching.