I have heard a lot of ppl recommend me to try the chicken rice at this shop. Few Friday ago, I went to have lunch with Hopey at this shop. During lunch time it will be pack with ppl. As there steam their chicken till it cooks not like what the other chicken rice stall they will cook the chicken in big pot of water. Steamed chicken skin will be tastier and not soggy like those that been put in water to boil.
We were served with soup first. My first taste of the soup was a shock. RLOL! It was really salty. Then I wonder if they actually make a mistakes that day, so I asked Hopey if the soup is always like that? She said yes! Ok nm soup salty is fine with me as it was not the main dish.
Then our rice was served, also the rice a bit salty for my taste.
Lastly our chicken arrive after 20min waiting. The chicken skin is is nice does not look soggy. Chicken is tender and juicy! Then again it is a bit salty for my taste.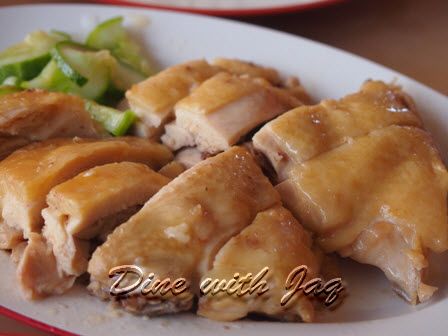 Overall the chicken is tender and juicy. Just wish that if they did not cook the rice that salty it will actually help to balance out the saltiness of the chicken. I just realise that they did not serve us with soya sauce. Maybe that is why they did not serve us with soya sauce as it is already very salty.