Looking for the perfect place which serves distinctive, fresh and flavourful Chinese New Year culinary delights during this festive season look no further. Starting from 9th Jan to 6th Feb 2012, The Borneo Convention Centre Kuching will be introducing here Prosperity Chinese New Year menus.
Three prosperity chinese new year menus are serving as special selection of 8 courses menu per table of 10 people prices from RM788++, RM888++ and RM988++ in the privacy of any BCCK's Meeting rooms.
All this delicious meal is hard work of Chef Peter Ngu. Chef Peter started working with BCCK as the Chinese Chef on Oct 2011. Previously, he was a Commis Cook at Ming Fan Chinese Restaurant, an Assistant Cook Chinese Section at Empress Cruise Ship, Chef incharge at New Trendy Bake Restaurant, and a Junior Sous Chef (Chinese Banquet Kitchen) at Royal Adelphi Hotel. He was also a Chef De Partie (Assitant to Banquet Kitchen) at RH Hotel as well as the Banquet Chinese Chef at Pullman Hotel, Kuching.
Thanks to Mike Cheng from BCCK, Kuching invite me for food tasting this year. I am so so glad that I accepted the invitation.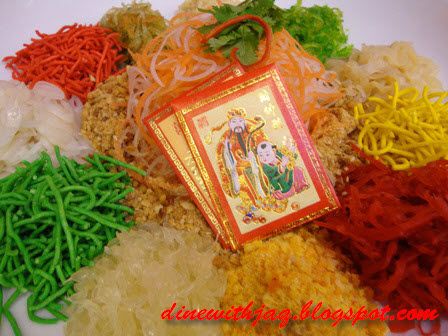 Sashimi Salmon Yee Sang
Yee Sang Toasting!
After the Yee Sang toasting it was in a mess. The well mixed yee sang taste really good!
Hope that after the Yee Sang toasting, this year will bring prosperity to all of us. :)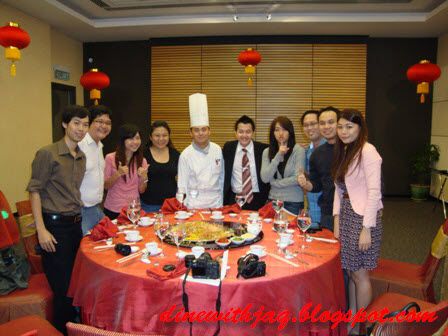 Eight Treasure Dried Seafood with Fish Lips
I love the chicken gravy!!
Steamed Village Chicken with Red Dates and Chestnut
C
C
I would finish bowls of rice with this dish. We are discussing that night what is Tong Chai so i tried to wiki it and I found it. :p
Tianjin preserved vegetable (Chinese:

天津冬菜

;Ti

ā

nj

ī

n d

ō

ngc

à
i; literally "Tianjin winter vegetable"; also called Tientsin preserved vegetable or Tianjin preserved cabbage) is a type of pickled Chinese cabbage originating in Tianjin, China
Braised Sea Bass with Preserved "Tong Chai" and Garlic
C
C
C
C
Stir Fried Sea Prawn with Oriental Sauce
Menu Selection
For reservations or information, call +6082-392 888 and +6082-392 688 from 9am to 6pm daily or visit www.bcck.com.my or on Facebook at http://facebook.com/BCCK.Sarawak